Our Journey
attempted to get into ensemble stars for over a year;
did not work out.
his bibliophilia 5* comes out
my friend posted it and i fell in love.
i had never seen this man in my life
but i'm sure glad i did.
i bought a starter with him on it in june
and did not spend a single dia
until his birthday.

That fateful day.
i was ready.
here i was. waiting for
hours in the car
I had almost four pulls ready
we all know what happened
on his birthday.
long story short,
i checked enstars about
every ten minutes at the
coldplay concert i went to that night.
at the end of the concert,
the app was under maintenence.
when i got home
two hours later,
he was here.

hello.
there i was, at about 4 am
i had band camp from 8-6 the next day
but i stayed up for him.
i scouted.
even if i already had him,
that's the moment i knew,
he's the one.
he won't let me down.
in the same scout i got
his bouquet 4*
scouted again after my two hours of sleep
pulled his initial 4*
i now have every single one of his
gacha cards.
i didn't use up all my pulls,
i thought i could rest.
wrong.
not even a week after his birthday,
the pleiades evenmt was announced
i had never participated in an event before
hello?
after a long ten days,
i finally did it.
i ranked for sora too!
i'm now bracing myself for
any event cards
switch revival gachas
and his promo 3*
please
please
please
private message me
UPDATE 11.28.17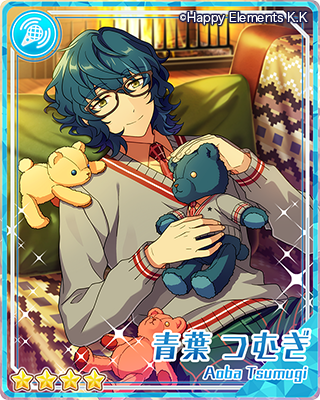 AAAAAAAAAAAAAAAAAA
AAAAAAAAAAAAAAAAAAAAA
AAAAAAAAAAAAAAAAAAAAAA
AAAAAAAAAAAAAAAAAA
UPDATE 11.29.17
FIRST TRY
THANK YOU SO MUCH
UPDATE 1.24.18
I LOST MY MIND WHEN THE
SWITCH/KNIGHTS EVENT WAS ANNOUNCED
BECAUSE I THOUGHT SWITCH WOULD BE RANK
BUT I WAS WRONG AND GRATEFUL
SINCE THEN I WAS ABLE TO SCOUT
TWICE IN THE REVIVAL BOXES!


I GOT HIM FIRST TRY
ALSO


THANK YOU SO MUCH